Protocol
step by step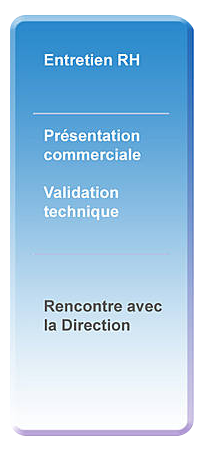 We organize a first interview with a recruitment officer that allows you to get accurate information on our structure, our policy, our goals and expectations.
This first meeting also allows us to approach your career plan, your skills and your expectations.
You are then brought to meet a business engineer who will provide more detailed information on the tasks falling in line with its expectations and projects.
In the last interview, you will have a view of the group's strategy by trading directly with our management.
This interview is an ideal place to share with you about our mutual evolutions wishes and means that we will set in place to achieve them.
Our values
We organize team meetings and individual meetings throughout the year to follow closely the activities of each consultant and professional goals.
For us, the human touch is essential and is one of the factors of our success since 1993.